Dave's Bargain Enterprise / 11 Pine Rd, Middleton, NH/ 603-755-3851/ FAX 888-884-9829/ dave@cruisingwithtunes.com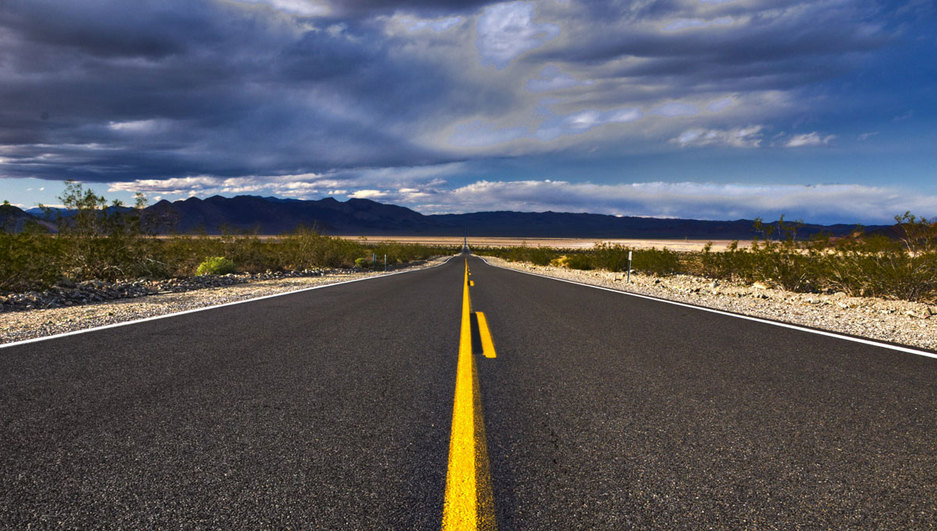 Cruising With Tunes.Com

Motorcycle Stereo Systems
with High Quality At a low Price!
MOTORCYCLE STEREO SYSTEMS
High Quality Motorcycle Stereo Systems at a affordable Price!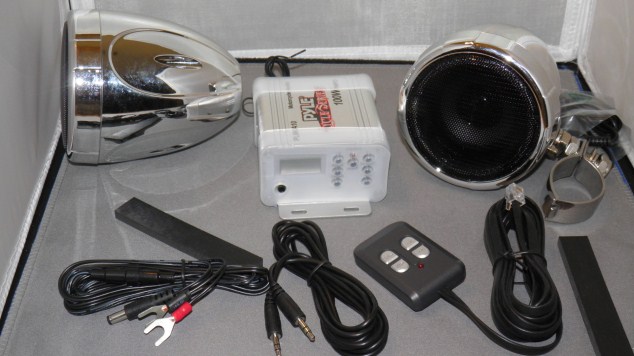 It comes with two 3" 50-watt weatherproof speakers, amplifier, and a dot matrix LCD display showing FM frequency and clock. Listen to FM stations or plug your MP3 player or iPod into the included 3.5mm jack to listen to your favorite music on this stylish system. Take total control of your sound with the remote control included with this system which controls volume, treble, and bass digital controls. Speaker mounting handlebar brackets for the speakers are included to make installation a quick process.
Now you can listen to music on the go, anywhere does not include mounting bracket for the amplifier !
We have a universal mounting brackets for amplifiers and radar detectors on Stereo's accessories page.
This Motorcycle Stereo System is what you need to listen to high-quality Tunes
Whether its on your motorcycle, ATV, or snowmobile!

100 Watt Pyle Motorcycle Fm Radio System
with Chrome Bullet Speakers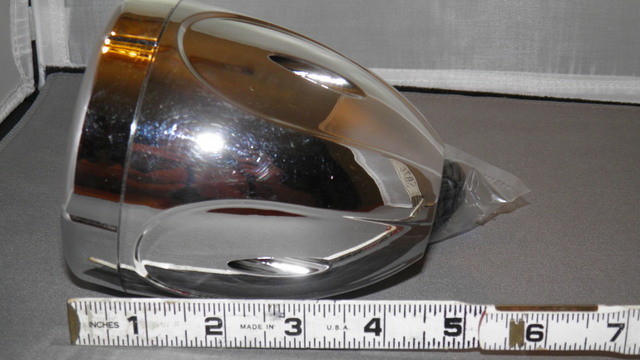 Speaker Dimensions: 4.46''H X 4.09''W X 4.09''D
Sharp looking Chrome Bullet Speakers with handle bar brackets will complement your bike and sound great.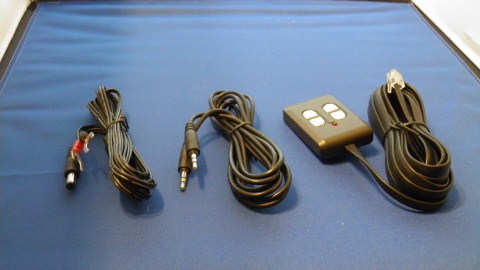 Everything needed to do a easy install
power cord, audio patch cord, and remote control'
Specifications

FM Radio/AUX/Clock Modes
Built in FM Radio with Electric Tuning Up/Down
Auto-scan Tuning System FM Coverage : 87.5-108.0MHZ FM
Stereo/Mono Operation
Dot Matrix LCD FM Frequency and Clock Time Display
Volume/Treble/Bass Digital Control Mute Function POWER Switch and Indicator, 3.5mm Stereo Input Jack,
Easy Connection to the Output of Other
Audio Devices Like CD/MD/Mp3/Ipod, etc
Remote Control Unit, Mini Amplifier, Suitable for 12 Volts Motorcycles / Scooters / Boat / Snowmobile / ATV / Waverunner
50 Watts × 2 @ 2 Ohm 10%THD
Frequency Response 20Hz-20KHz S/N: >50dB
3'' Dual weatherproof Speakers
Channel Balance:<2dB FM Sensitivity:10V @ S/N 30dB
Easy Mounting Brackets and Accessories included
On Sale Now!

Only $129.37

You'll be Cruising with Tunes before you know it!